Lysis games
Descriptions of my older games
Sections on this page :
Silver Lining - Distortion Factor - Rocket Racers - Big Fish - Piu Piu - Mathsspin - Get Greg - Maxwell
This is basically an optimisation game. You've got to score as much as you can in just 60 seconds.
The catch is that everything you do costs increasing amounts of points.

Distortion Factor
A fairly short, casual-format game. Just use your mouse.
Pro-tip: read the instructions for each level.
I enjoyed giving each level of this game its own bespoke nature. The background images are my own photos - in my family I'm notorious for taking strange pictures of walls and the like. Some of them made it in here.
This game was sponsored by Addicting Games, where it was widely criticised for being a maths game. Hilarious.
Wierdly, AG required that their branding not appear alongside any other in-game advert; I've removed it for here.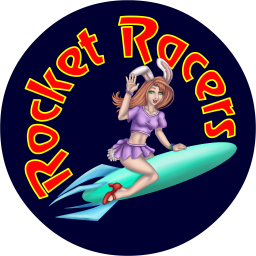 Rocket Racers
This is a top-down racing game. I tried to give it a cartoony style, with lots of little in-jokes. You race a rocketship against four competitors, and can temporarily stun them with missiles. I'm very pleased with how this turned out, especially the opponent AI - they each have their own style. This game was sponsored by Addicting Games.
If you like this game - and in particular the mascot, you might like this desktop wallpaper. You can also buy some merchandising. There are T-shirts, mugs, badges and fridge-magnets sporting the mascot from the game.
The music I used in this game is from shockwave-sound.com That site provides royalty-free music for a reasonable price, I intend to use it in more of my games in future.

Big Fish
This was the first thing I made with Flash. It's a game in the 'eat-em-up' genre - you start small and have to eat smaller things to get progressively bigger. It's definitely hard-core; there is inertia in the movement, and larger fish are more bouyant. If you want to play a mouse-avoider game, this isn't it.
However, if you find you can't deal with the low acceleration rate you're in luck - I made a version just for you. I call it Big fish, chipped. Personally I think it throws the balance completely off; you're free to disagree. This game was sponsored by Crazy Monkey Games, so I'm indebted to them for letting me make this alternative version.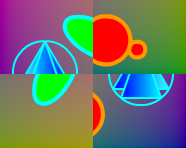 Piu Piu
With this game I took into account the fact that people seemed to want to play mouse-controlled collector/avoider games. And decided to punish them for it. Try it - it'll do your head in.
Don't say its easy until you can complete hard difficulty. This game was sponsored by Kongregate.
Oh, and the name and styling? I just thought it was fun.
Mathsspin deluxe

This is a maths game - wait, don't go yet! Surprisingly, its quite enjoyable - the gameplay elements make the difference. And it really does improve your mental algebra. This is a new, version which has different graphics and sounds for each level, and is exclusive to this website. The graphics are mostly derived from other projects of mine.

If you prefer the old version, you can still play that.

Advert


Get Greg
Greg is the community manager at Kongregate. He developed a cult following which culminated in 'Greg month', when a number of users changed their avatars to variations on his. This lead me to the idea of needing to quickly pick out an icon from an array of similar ones.
And I reused the Greg-like icons and gave it Kongregate styling, hence the name.
(Due to laziness I'm linking to the game on Kongregate)

Maxwell
This game was written mainly as a quick test of Kongregate's system.
The idea is to get the four coloured balls into their coloured backgrounds, using the two 'paddles' at your disposal. These paddles run along the internal borders of the four coloured quadrants.
The balls don't so much bounce off each other and the paddles as repel, to give a squashy effect. You can use this to control a ball's speed as well as its direction.
The skill involved here is mainly in watching several things at once and not panicking.
Bonus prize to those who recognise where the name comes from. (No not really.)
(Again, linked to on Kongregate)
Contact
Want to contact me? Click here for a lovely captcha to solve.